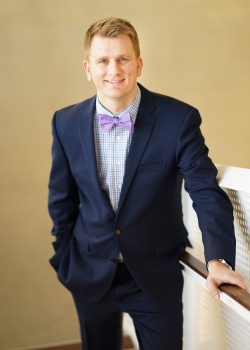 Choir Director
Dr. Christopher Nakielski is incredibly excited to be the Music Director of the United Congregationalist Church of Christ in Iowa City. Nakielski is currently an Assistant Professor of Voice, Choir and Choral Music Education at Cornell College, where he conducts two vocal ensembles, teaches vocal diction, vocal pedagogy, elementary and second music methods and materials, introduction to music theory, advanced and beginning conducting and maintains a small private voice studio. Immediately prior to this post, Nakielski served as Assistant Clinical Professor at Washington State University immediately after earning his D.M.A. in choral conducting and pedagogy under the tutelage of Drs. Timothy Stalter and David Puderbaugh. Prior to his enrolling at The University of Iowa, Nakielski received his B.A. from Ripon College in 2006, and his M.M.E from the VanderCook College of Music in 2009. As an active tenor soloist, Nakielski has sung with several professional choral ensembles including the Iowa City Chamber Singers, Spokane Kantorei Choir, Chicago Choral Artists and the New Classic Singers, in addition to serving as a tenor section leader for Queen of All Saints Basilica and St. Peter's in the Loop in Chicago for six years.
As a rock musician (Keyboards/ backup vocals), he toured five years with singer-songwriter Ben Ripani, playing at prestigious festivals and stages across the United States. In 2010, the band's music was featured in the 2010 Season two finale of cable television show "90210." Nakielski is also interested in twentieth-century Polish choral music pertaining to his dissertation involving research on the first female Polish choral conductor Irena Pfeiffer (1912–1986). Nakielski currently serves as editor of the Iowa Choral Directors Association Sounding Board magazine as well as the regional stage director for the American Choral Directors Association. He is also the liturgical director at the United Congregational Church of Christ in Iowa City. When at home he enjoys spending time with his wife Colette and his three children, Finnegan, Evelyn and Charlotte. When not at home or at work, he can be found fly fishing in the driftless region of Northeastern Iowa.
For information on how to become involved in the choir, please contact Chris at cnakielski@cornellcollege.edu or text/call 414-881-0598.